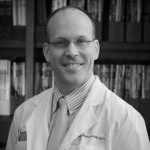 Dr. Craig Hofmeister
| CureTalks
Craig C. Hofmeister, MD, MPH, is Associate Professor of the Department of Hematology and Medical Oncology at Emory University School of Medicine, Winship Cancer Institute. Board certified in internal medicine and hematology, Dr. Hofmeister's practice focuses on plasma cell cancers, including plasmacytomas, multiple myeloma, AL amyloidosis, smoldering myeloma, and monoclonal gammopathies of renal significance. He started practicing with Emory Healthcare in 2018. Prior to joining Emory, Dr. Hofmeister was Associate Professor of Clinical Medicine at The Ohio State University - James Cancer Hospital and Solove Research Institute. Dr. Hofmeister earned his Medical Degree and his Master of Public Health in Clinical Investigation from The Ohio State University in Columbus, Ohio. He completed his internship and hematology fellowship at Loyola University. Dr. Hofmeister's research focus is on early drug development and investigator-initiated clinical trials exploring novel diagnostics and treatments. As a translational researcher, he has been funded continuously from the National Cancer Institute (NCI) since 2016. He holds professional memberships with American Society of Hematology, American Society of Clinical Oncology, American Society of Blood & Marrow Transplantation, and International Myeloma Society.
Related Talks
Plasma cell disorders like multiple myeloma, plasmacytoma, smoldering myeloma, MGUS are diseases in which the body makes too many plasma cells. These disorders…

CS1-CAR is a new and radically different approach in cancer treatment that harnesses the power of the patients immune system to rid itself…

Does improved survival rates help improve myeloma life expectancy? Learn it from Dr. Craig Hofmeister of Ohio State University James Cancer Center.