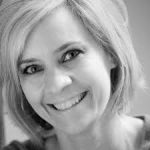 Jennifer Mccrea
| CureTalks
Jennifer McCrea lives in Calgary, Canada. With a strong family history of ovarian cancer, Jenn tested positive for BRCA 1 in 2005. She was diagnosed with breast cancer at stage zero in July 2011 when she was 34 years old. Her sons were about 3 and almost 9 months old at the time. Jenn underwent bilateral mastectomy in August 2011. She has been deemed cancer free since then even though the pathology report showed that her cancer was stage 1 and invasive. Jenn went on to have a bilateral mastectomy and did not need chemo or radiation. She has since then become a runner, marathoner, and a triathlete. In June 2012 she underwent a oophorectomy and in August 2012 went in for breast reconstruction. She now advocates for breast cancer and speaks about her story and BRCA. Jenn has been featured in the Chicago Tribune, Flare magazine, IMPACT magazine and has written articles about running as well.
Related Talks
According to the National Cancer Institute, a women's risk of developing breast cancer or ovarian cancer greatly increases if she inherits the mutation…

We are talking with breast surgeon Dr. Gemignani from MSKCC about surgical treatments for breast cancer.