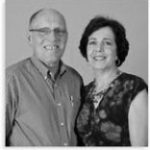 Sue Van Dyunn
| CureTalks
Caregiver Sue VanDuyn has been married to Harold for almost 24 years. Harold was diagnosed three years ago with MM, had a stem cell transplant in September, 2010, and has been in stringent CR ever since the transplant. With the help of the Myeloma Foundation, Sue and Harold started a myeloma support group for the West Michigan area in June, 2011. Sue volunteers for the International Myeloma Foundation (IMF) as a caregiver advocate and travels to Dallas, Texas each July to assist the IMF at their annual Support Group Summit.
Related Talks
On CureTalk's second LIVE ON-AIR Myeloma Support Group Meeting Support Group Leaders Pat Killingsworth, Cynthia Chmielewski, and Sue Van Duyn discuss the topic:…

On CureTalk's first On-Air Myeloma Support Group Meeting the group leaders discuss "Balancing The Needs Of Patient and Caregiver."